Carmel, Indiana, is building a walkable downtown from scratch—and also planning to have a strong tax base for many years to come.
ROBERT STEUTEVILLE FEB. 11, 2021
Carmel, Indiana, a rapidly growing suburban city of more than 100,000 people, demonstrates the value of mixed-use development in raising tax revenues. In a presentation to Carmel City Council in early February, Redevelopment Director Henry Mestetsky made a strong case for focusing on downtown core redevelopment projects that generate high value per acre.
With long-term vision, land assembly, and the goal of a high-quality public realm, Carmel is achieving land assessment values that are 20 times or more greater than conventional development, Mestetsky reports.
Carmel was a tiny village within a municipality of 1,000 people in 1950, and has since grown into a major suburb of Indianapolis. The city is building, from scratch, a downtown that is designed to attract major businesses and talent. The historic village and Main Street have been revitalized into an "Arts and Design District" and City Center, a half mile to the south, was built by the city as a performing arts complex. Between the two, the city is promoting mixed-use development—including new corporate headquarters that are relocating to the city.
"Why are we building mixed-use? That's how we attract the talent, that's how we attract the companies here," says Mestetsky. Also, that's how the city builds tax base for the future.
"When left to the market to allow developers to build what they build," the result is strip centers, he says. "Even nice retail, like the Target on the west side, generates a half million in assessed value per acre." Stand-alone office buildings generate $1 million to 1.5 million in assessed value per acre, he explains.
"Then you look at redevelopment projects that the mayor and council have done together," he says. "Instead of a million or a half million per acre, we are netting $23 million in assessed value per acre, $20 million in assessed value per acre. Twenty times the assessed value from redevelopment projects. That locks us into a positive tax generating position for the next hundred years. This is smart planning."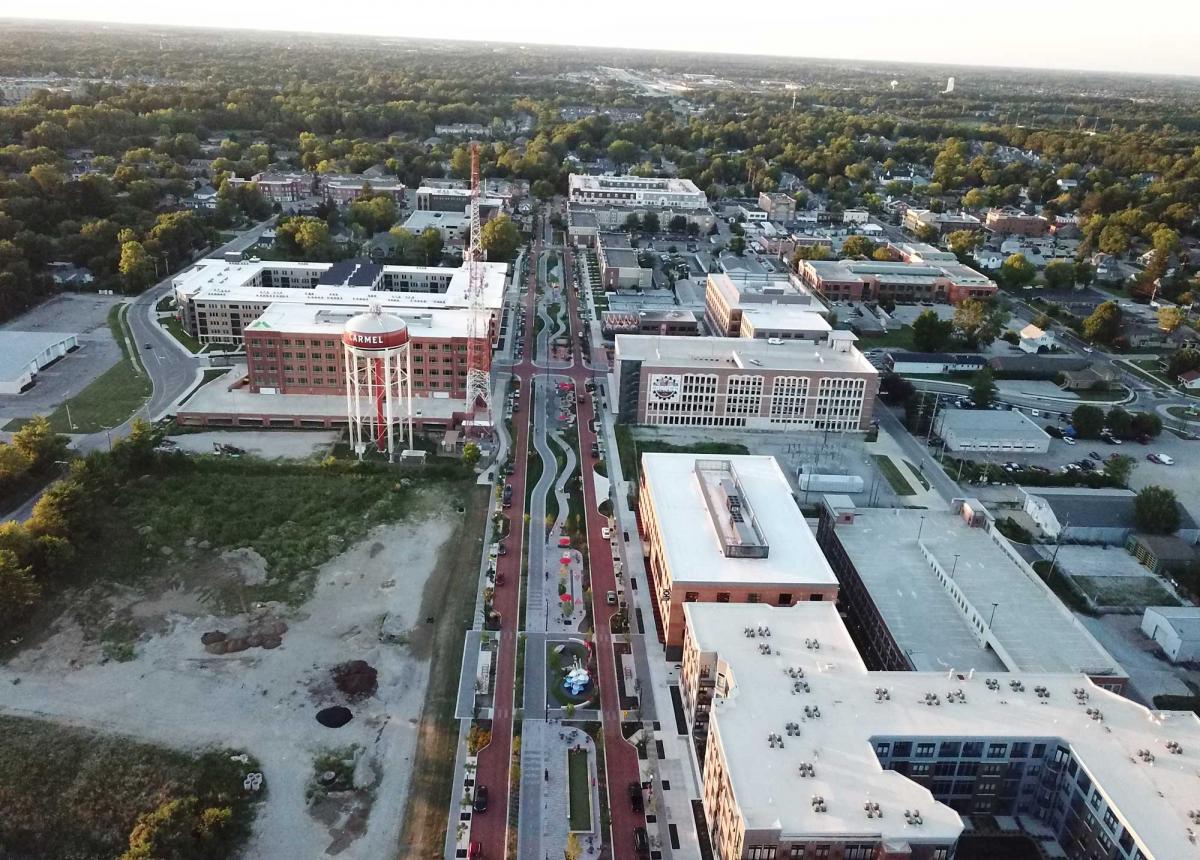 He compares Carmel's strategy to public private development projects in nearby municipalities of Grand Park and Deer Creek, which netted $100,000 to $1 million in assessed value using a single-use development model.
The high-value-per-acre strategy requires not only walkable urbanism, but also public-private partnership. All of the recent high-value redevelopments in Carmel needed long-term vision and land assembly that only the city could make happen, he says, due to the following reasons:
The conventional business/lending model is based on greenfield development. Developers will default to the greenfield model if there are any environmental, infrastructure, lending, or entitlement issues with redevelopment. The city needs to ensure an equal playing field.
Without the city participating in land assembly, the free market will not redevelop sites (or they will develop single-story buildings with large parking lots).
Each targeted parcel is part of a comprehensive city planning and redevelopment strategy that is absent when individual private developers are leading the way.
The city can guide master planning (coordinating the public realm with private development). The city can think about fulfilling a vision for 20 years, while few developers have such a long-term outlook.
"Our focus is on the built environment," Mestetsky says. "And that's what generates $20 million in assessed value. That's what proper planning gets us."
Mestetsky's presentation was made in the context of a $23-plus million bond issue request for land acquisition and other projects designed to improve the built environment in the city's core. The source of the funding is tax-increment financing from previous mixed-use projects.